Licensed Professional Counselor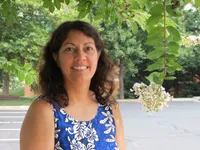 Jill Changizi-Kerr is a Licensed Professional Counselor who arrived at a love for psychology when she was introduced to psychological teachings in college. Expanding her mind to learn new strategies to process issues, analyze problems, and accomplish goals was very therapeutic so she decided to dedicate her life to helping others achieve personal growth as well. Jill graduated from James Madison University with a Bachelor of Arts in Psychology and a minor in Spanish. She then earned a Master of Arts in Community Counseling at Ball State University and did research and writing in collaboration with many multicultural counseling experts to contribute to an important publication in the field of multiculturalism…"The Handbook for Multicultural Counseling,"(Sage Publications). She obtained her license as a Professional Counselor in 2000 and has worked in a variety of therapeutic settings. She provided counseling and psychoeducation for many years to adult inmates in a detention center setting and counseled their families. She co-lead a substance abuse treatment program for adult, incarcerated men in a different location. She worked for a hospice for several years supporting patients and families in approaching end-of-life issues and managing grief. She has prior experience in private practice and in a mental health center as well.
Due to her belief that living fully in the present is critical to mental health, Jill primarily uses therapeutic approaches that focus on healing emotions, developing cognitive insight, and developing behavioral solutions. She believes strongly in the value of the relationship between client and therapist as a critical part of a healthy, healing process. She draws from choice theory/reality therapy, solution-focused brief therapy principles, rational-emotive therapeutic interventions, is Certified in Cognitive-Behavioral Therapy and mindfulness approaches. She also teaches dialectical behavioral therapy (DBT) concepts to support healthy functioning.
Jill provides individual counseling to adults and adolescents, couples counseling, and group counseling for multicultural populations in these specialty areas:
GRIEF… Jill is a Certified Grief-Informed Professional (certified by Evergreen Certifications, PESI, RTS Bereavement and the SIDS Alliance) in areas of perinatal loss, infant death, sudden death, and death across the life span. She has numerous trainings in the area of terminal illness and thanatology in addition to her experiences in working with a hospice assisting with end of life care and family/caregiver support.
MOOD ISSUES… Jill has certifications and training (via PESI, INR, CMI, NVLPC and other training sources) in perinatal anxiety and depression, general anxiety and depression, mental health issues in older adults, post-traumatic growth, humor and healing, emotion regulation, self-esteem building, successful weight loss management, overeating issues and related nutritional support as well as sleep improvement support.
RELATIONSHIP PROBLEMS… Jill has specialty in the area of couple's counseling including certification in the Gottman method (PESI) and training in many related areas to support healthy relationships, parenting, and communication skill development.
INFERTILITY… Jill is a certified mental health professional in the area of treating infertility (Certified by the American Society for Reproductive Medicine and the American Counseling Association, having completed trainings by both organizations). She is very knowledgeable about available resources in this area.
LIFE TRANSITIONS… Jill is skilled at supporting clients in managing changes such as divorce, work transitions, pregnancy and becoming parents, empty nest issues, college planning, and other related life adjustments.
Jill is delighted to be able to continue to serve individuals and families at Dulles Psychological Services.