Licensed Marriage and Family Therapist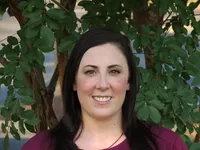 Kristin is a Licensed Marriage and Family Therapist in the states of Virginia and California. She was born in Washington DC, raised in Northern Virginia, and has recently relocated home from California in late 2017. Kristin works with adolescents, individuals, and couples dealing with adjustment, anxiety, depression, transitional issues, relationship issues, low self-esteem, grief and loss, mood disorders, behavioral/oppositional problems, phase of life changes, anger management, and trauma-related issues.
Kristin received her Bachelor's degree in Psychology and Master's degree in Counseling Psychology at Marymount University in Arlington, VA. She started her professional career in Los Angeles, CA, and has worked there in the mental health field for 15 years, primarily in residential, community-based, and juvenile detention center settings providing individual and family therapy with adolescents in varied socio-economic communities. She was Clinical Supervisor of the Therapeutic Behavioral Services program for a Non-Profit Agency in Los Angeles for 5 years before transitioning to private practice setting
Kristin utilizes a Humanistic approach grounded in Existential Therapy, including motivational interviewing and narrative therapeutic techniques. Additionally, she has had a long invested interest in Jungian Type theory, and by extension Myers Briggs Type, which blends with the Humanistic-Existential Model. Kristin is a certified Myers Briggs Type Indicator (MBTI) Practitioner. Her focus tends to look for meaning, potential and strive for self-actualization through choices, self-determination, and responsibility. Kristin believes the role of the therapist is to join with the client, guide them in processing their concerns, and finally to facilitate them to enhance the big picture of their life. She works as a collaborator with the client using their unique qualities to help them identify their stressors, increase self-understanding and change any self-destructive thoughts, behaviors, patterns to help them find personal fulfillment.