Resident in Counseling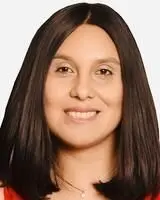 Margot is a bilingual ( English-Spanish) Resident in Counseling. She received her bachelor's degree in Psychology and M.Ed. in Counseling and Development at George Mason University. Margot is passionate about working with couples, families, children, and adolescents as well as facilitating preventative programs.
Margot has over 9 years of experience working with at-risk populations. She has worked as an Intensive in Home individual and family counselor for children and adolescents. Margot has also worked in the school setting as a therapeutic day treatment specialist to assist children and youth who have emotional/behavioral problems in the school (ages 8 to 15). Margot has experience working as a Behavioral Specialist and as a Youth Counselor at a Residential Treatment Center for Children and Adolescents at UMFS Leland House. In addition, Margot has facilitated groups to strengthen couple's relationships and parent-child relationships.
Margot utilizes a holistic approach as she believes it is important to take into consideration a person's emotional, physical, social, and spiritual stages of well-being before determining a treatment plan. Margot has utilized CBT, Motivational Interviewing, Gestalt, Mindfulness, and strength-based approaches when working with adults and adolescents. Margot believes art, music, and creativity are key components when working with children and adolescents.